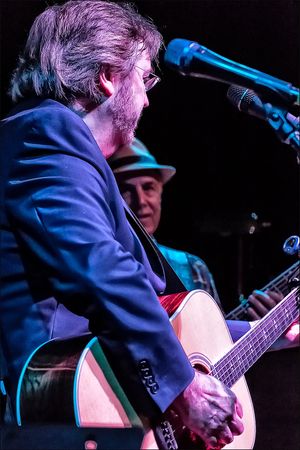 It is strange how adversity can help deliver the most amazing results. I had wanted to have the CD release for Sitting In Aztec Chairs at Portland's famous acoustic venue, Café Artichoke. So I booked a date for March 2015, then I got an email that they would have to reschedule and I got pushed back to May. That was okay, the recording process was going a little slower than I had anticipated. Then I received a 2
nd
email that the date May date had been double booked and would I reschedule again, but the only date that fit my schedule was July 11
th
. Much later in the year than I wanted, but I took the date.
Then I started rounding up my band and one after the other the band members from the recording told me they already had other commitments. I called up keyboardist Dave Aston, who I had played with at several street fairs so he already knew a bunch of my songs, and he was available. I thought, well I'll just go and do the gig with Dave. It will sound totally different than the album but that's okay. Then my great friend
Michael Henchman
, who played bass on the project, phoned and told me that he would be available after all. Things were shaping up.
Then I got the word from Artichoke that the house sound engineer was not available and did I have someone that I could provide. I had worked with a wonderful sound engineer, Marty Gallagher, at the three street fairs I had played and gave him a call. Marty was could make the date.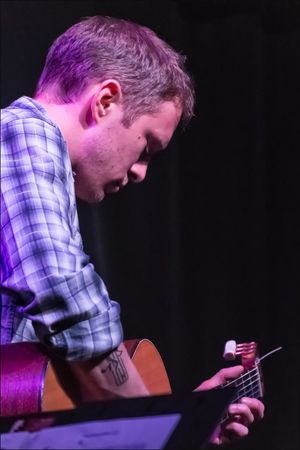 I started looking for an opening act and again, I found that many of my musician friends already had commitments for that Saturday night or were out of town. Then I thought about inviting
John Rankin
to open for me. John had just returned from SxSW down in Austin, TX and had won some contest that had him opening for John Legend's show. John told me that he was available, so I asked him if he would like to join me on stage for a couple of numbers on 2
nd
guitar. John said sure, then asked me if I would like a little violin on any of my tunes. "What? You play violin?" John told me that violin was actually his first instrument. Now the band was really taking shape.
So I started to promote the event, and wouldn't you know it, pretty much all of my friends, neighbors, and even my dentist and the grocery store clerks were going to be out of town. Yes, I was getting desperate. Would there be anyone at the show?
The night of the show rolled around and the room started to fill; some friends, some family, and a lot of strangers. My promotion efforts had worked after all. John Rankin just killed it as the opening act; he was so good. Now it was my turn. The show came off as close to perfect as you can get. The band found a great groove on every song, even without a drummer. Marty played the sound board like an instrument, making sure that every instrument was fine tuned for every song and adding little reverb or delay "sweeteners" as well. Sure enough, it didn't sound anything at all like the album, but it had a wonderful identity all its own.
Here is a video from the show titled, Light It Up. It was written with
Phoebe Blume
as a song of affirmation. However it seems to have been picked up locally as an anthem for the legalization of marijuana in Oregon. Hahaha, well whatever works.