Radio Stranger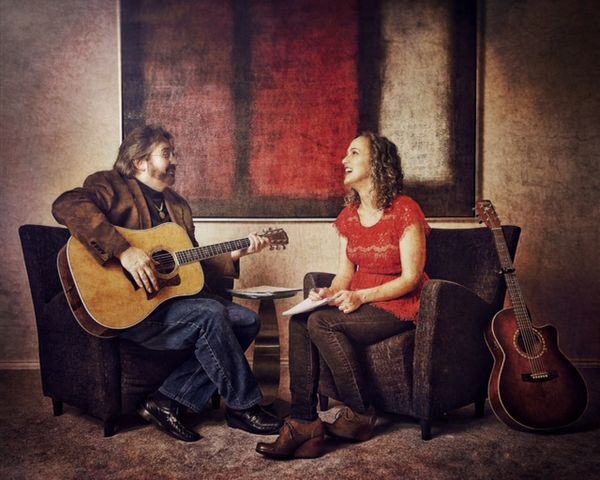 Eclectic Acoustic Pop
SHORT BIO
Americana artist Kelly Brightwell and folk-rocker Woody Moran have fused their talents, writing and performing together as Radio Stranger. This Portland, OR based act serves up catchy melodies and heartfelt messages with their collection of Eclectic Acoustic Pop tunes. Their sound is reminiscent of The Civil Wars, Birds of Chicago, The Swell Season, and the UK band The Shires. Their 2nd EP, entitled CROSSTALK, was reviewed with high marks from Music Connection Magazine (Nov 2017) and they are included in Dec 2017 Music Connection's Best Unsigned Bands of 2017. They recently were awarded an Official Showcase at the Far-West Conference, also appearing as songwriter panelists alongside Beth Wood and Jim Bruno (Shawn Colvin) at the conference. Radio Stranger opened for David Wilcox's only Portland appearance in 2017. "Really good songs, great harmonies... you got pocket!" David Wilcox. 2022 Global Award Winners for their song "Bare Boards".
*****
What happens when you pair a gravel-voiced groove master with an sensitive Americana-infused soul?  When you mix the detailed observations of a world traveler with storytelling that brings emotional landscapes to life?  The award-winning songwriting team of Brightwell & Moran.

In 2014, Americana artist Kelly Brightwell (BMI) and Folk-rocker Woody Moran (ASCAP) wondered if writing together could be a way to meld their unique writing sensibilities into something with a broader appeal than their own individual efforts. They soon realized that they had an amazing synergy and could trust the songwriting process to help them create compelling songs. Their goal is to write catchy songs that will become part of the soundtrack of people's everyday lives.

RADIO STRANGER Released in April 2016, their debut EP Radio Stranger features five Eclectic Acoustic Pop tunes:  Whisper in the Night is a driving love song reminiscent of Jackson Browne, Good Money After Bad is an upbeat Norah Jones-style country number, Madonna of Tears is a classic ballad in the vein of Emmylou Harris, Rockabye Moon recalls a sexy Ricki Lee Jones, and Night Over Water captures the intimate energy of The Swell Season. Their sound is reminiscent of Birds of Chicago and the UK band The Shires. 

The EP was recorded and produced by Rob Stroup at 8 Ball Studio.   It features some of Portland, Oregon's finest musicians playing live together in the studio, with no prior rehearsals:  Jean-Pierre Garau (keyboards), Michael Henchman (bass), Jeff Koch (electric guitars), and Jeffrey Anthony (drums). The collection of hook-y and rhythmic tunes are held together by lush instrumental textures and the combined voices of Brightwell & Moran.
RADIO STRANGER CROSSTALK is Brightwell & Moran's second EP of Eclectic Acoustic Pop. "Crosstalk" is the technical term for leakage between two audio circuits, such as two channels on a sound mixer. Released in the fall of 2017, this collection of songs showcases Kelly and Woody's individual musical strengths, as well as the places where their talents have merged to become something altogether different. The subject matter also hints at the places where individuals and their stories overlap to reveal something new and unexpected.
Bare Boards has the feel of an Alison Krauss song written to a Marc Cohn composition. It's a story song that follows the life of an old house -- from the inspiration of the builder, to an eventual state of disrepair, to the ultimate decision to "do the work that love requires" and rebuild it. The house also functions as a metaphor for the self, and asks us to take a good look at "what we're made of". Anybody's Everything is a John Mayer-inspired Soft Rock tune that celebrates the early stages of a passionate all-consuming romance, and wonders how "love could be so easy after a lifetime alone". Take It or Leave It comes out of the gate with a driving guitar riff and tight Eagles-era harmonies. It centers on a strong woman's perspective in a troubled relationship, and her refusal to take on the burden of her partner's insecurity: "Take me as I am, no strings attached." Don't Judge Me tells an Americana Noir tale of an unlikely savior complete with dark lyrics, haunting percussion and a good dose of Dave Matthews' style. The story suggests that sometimes, in order to rectify the wrongs of the world, you have to do the unthinkable -- which just might cross the line "between what's good and right". After the Storm is a modern-day political parable wrapped in a catchy Bruce Hornsby inspired Pop/Rock Anthem. Using extreme weather as a metaphor, the question is asked: "Did you really think you'd get out unharmed?"

Brightwell & Moran perform in the Northwest under the name RADIO STRANGER as a duo and with full band, and are currently looking for placement and licensing opportunities.
Please use the contact form to inquire about availability for shows and performances.
Don't forget to join Woody's mailing list.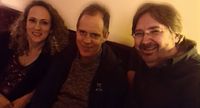 "Really good songs. You two have such great harmonies, and you have the ability to really lock in rhythmically with each other. You got pocket."
David Wilcox, Singer-Songwriter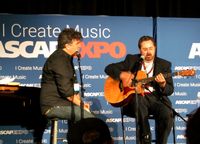 "This isn't Pop music or Country music...  but Whisper In The Night is a great song that needs to be recorded!"
Darrell Brown, Grammy Award winning songwriter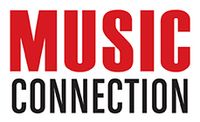 "Radio Stranger will appeal to grown-ups, with meaningful music that touches the heart and soul...All in all, these seasoned players are captured by pristine production that enables Radio Stranger to deliver humanist messages."
Review of Radio Stranger CROSSTALK, Music Connection Magazine (Nov 2017)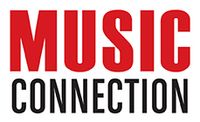 "Radio Stranger - Top Prospect of 2017"
Music Connection Magazine (December 2017)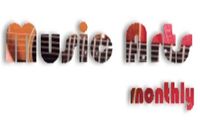 "I can only say that I wish I thought of those lyrics! This duo does it good. Just the kind of music you want to hear when you need that good feelin'"
Marcus Walton, editor, Music Arts Monthly (Feb 2018)

"These songs are timeless."
 Music Supervisor - Durango Songwriters Expo 2018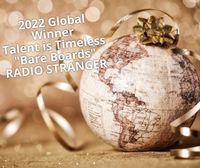 2022 Global Winner - Talent is Timeless Song Contest. "I was looking for a strong lyric that avoided cliche and a song that someone only over 50 or so could write, a perspective of someone with life experience, and facing the challenges that come to you at that time of life. Hand on heart, 'Bare Boards' was my favorite."  Fergus McNeil - Contest Judge and Global Winner 2021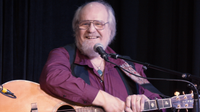 "There is something really unique about the sound of this duo. Kelly Brightwell and Woody Moran blend disparate voices with fine guitar work on their fluid, expressive compositions. Think a smoky uptown New York nightclub in the early 1960's, with two great singers who weave an irresistible spell."
Tom May - River City Folk syndicated radio show.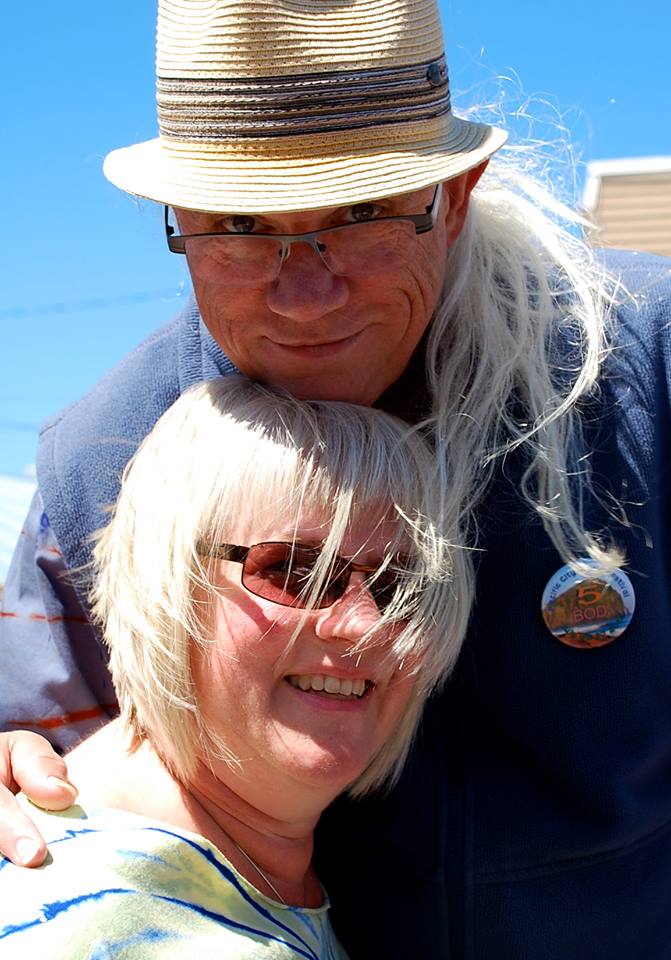 "Radio Stranger creates amazingly good music... Kelly's crystalline, yet earthy voice, Woody's strong sense of groove, both of their amazing word craft produce an exciting sound that is sure to please anyone who appreciates great lyrics, great grooves, and dynamic performances. At Doverlaff House Concerts, we love Radio Stranger. You will, too."
Cheryl Mitzlaf and Dan Dover - Doverlaff House Concerts
"Well I just got back from an evening of total sonic majesty provided by "Radio Stranger". I have known Woody from various open mic nights over the years. When I first heard him play at the open mics, I loved his guitar tone, his technique and his exquisite voice. I had never seen him in a band setting before and his partnership with Kelly Brightwell, Michael Henchman and Jeff Koch just goes to prove that the sound wall they produced was truly much more than the sum of the individual contributors. An absolute exquisite evening, they can count me in as a fan. This was just one of those those special evenings, so glad I went to see them play." Charles McAuley - Cider House Concerts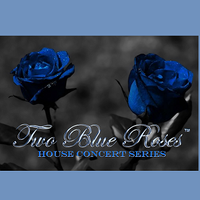 "Radio Stranger are the real deal.  This is fully revealed when they hit a live stage, captivating the audience right from the very first song.  Tight harmonies; meaningful memorable melodies, lyrics and songs; audience rapor; and an impressive stage presence. Their show at Two Blue Roses in Eugene Oregon was outstanding and I can't wait to be able to book them again.  Radio Stranger are a high quality, high energy performing duo." Jeanette Lundgren - Two Blue Roses House Concert Series
Listen To / Buy Radio Stranger
Listen To / Buy Radio Stranger Crosstalk

Video - "Barefoot Nightlife" - Concept Video
Video - "Top Of The World" Concept Video
Video - "After The Storm" Concept Video
Video - "Anybody's Everything" - Concept Video
Video - "Madonna of Tears" - Lyric Video
Video - "Christmas Lights" Live - Cafe Artichoke
Video - "Bare Boards" Live - CCTV Television Broadcast
Video - "Night Over Water" Live - CCTV Television Broadcast
Video - "Rockabye Moon" Live - CCTV Television Broadcast

Video - "Whisper In The Night" Live - CCTV Television Broadcast
Video - "After The Storm" - Songwriter Sessions #1
Video - "Anybody's Everything" - Songwriter Sessions #2
Video - "Bare Boards" - Songwriter Sessions #3
Video - "Don't Judge Me" - Songwriter Sessions #4
Video - "Take It Or Leave It" - Songwriter Sessions #5
Video - "Bare Boards" Live - House Concert

Video - "Anybody's Everything" Live - House Concert

Video - "Night Over Water" Live - House Concert

Video - "Step Away" Live - CD Release Concert
Video - "Take It Or Leave It" Live - Art In The Pearl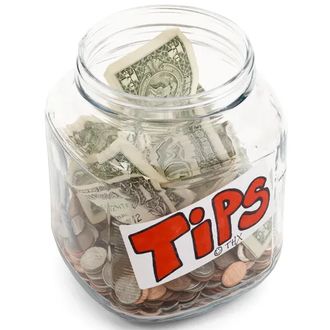 ADD A TIP TO HELP US KEEP MAKING MUSIC
TIPS - are like HUGS, but without the awkward TOUCHING
Enter the amount you wish to donate